Extravaganza 2024 Theme
Dream...
"In the last days it will be, God declares, that I will pour out my Spirit upon all flesh, and your <children> shall prophesy, and your young…shall see visions,and your old…shall dream dreams."    - Acts 2:17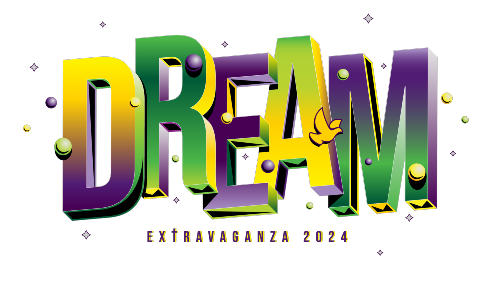 Tagline:  Embrace God's dream to renew a broken and hurting world.
Thesis: In a broken and hurting world, we are called to discern God's dreams and visions; as we seek to follow Jesus, we will be equipped by the Holy Spirit to make those dreams a reality for the children, youth and families we serve. 
Explanation:  Throughout the scriptures, God speaks to the people through dreams.  In the Old Testament, Abraham and Sarah dream of faith and of God's incredible promises.  Joseph had a series of dreams that prophesied his future leadership and authority over his family. Isolated from his family and in a foreign land, Joseph interprets Pharaoh's dreams of abundance and scarcity.  His interpretation saved a whole nation, as well as his family,  from famine and solidified his position as the second in command to Pharaoh.
Daniel following his forced removal to a foreign land, also had a gift of interpreting dreams, and God communicated with him through his dreams.  God revealed to Daniel King Nebuchadnezzar's dream and its interpretation, which resulted in Daniel being elevated to the king's court.
In the New Testament, Joseph, the husband of Mary, was warned in a dream by an angel to flee to Egypt to protect Jesus from King Herod's wrath. The Magi, strangers from a foreign land, are warned in a dream to not return to King Herod, in order to protect the life of the young Jesus.   A few decades later, Pilate's wife had a dream about Jesus, which prompted her to warn her husband against condemning Him.
And after John was imprisoned on an island he had dreams of Christ's vision of the church and he called people to change with the promise of a new future.  
Throughout the scriptures we read of those who had dreams, or who interpreted the dreams of promise, warning and possibility. And in many cultures, dreams still play an important role in their understanding of how God connects with God's people.  Why has the church stopped giving attention to our dreams?
A dream is almost always about the future.  It is almost always about a possibility.  It is almost always about what "could be."  
We wonder, "what could be?"  
What could be, for the faith of the young people with whom we work?

What could be, for our congregations?

What could be, for the church?

What could be, for the work of God in the world?
What could be?
God has a dream, a future vision for what the world should be.  And the role of people of faith is to make that dream a reality in God's world, here and now.  But that belief requires us to ask the question:  "What does God dream of for our world?"  
Extravaganza 2024 will explore these questions.  And we will look to discover the role that those who work in faith formation with young people play in discerning God's dreams and visions for the world, and how we can make those a reality in the places we live and serve.