Extravaganza Musicians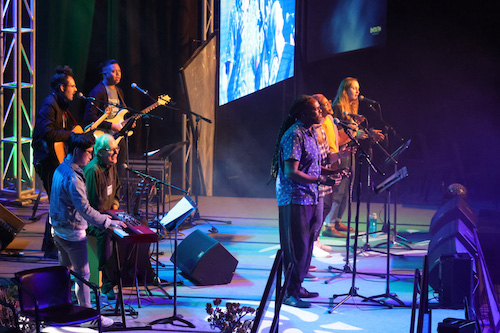 These carefully selected musicians will inspire, challenge and equip you for the ministry ahead. Additional musicians will be added, so be sure to check back for updates. 
---
Jazz Ensemble Leader
Jon Ailabouni
Jon Ailabouni (he/him) is a sought-after trumpeter, composer, and educator based in La Crosse, WI. With a background steeped in Western European classical and Black American jazz traditions, Jon's creative work prioritizes emotion and story as a focal point for groove, improvisation and composition. Ailabouni's improvisation as a soloist has been described as "sharp and resourceful" (AllAboutJazz.com). His 2023 album, You Are Not Alone, featuring nine of his original compositions has been presented at the Iowa City Jazz Festival and is available on Bandcamp and all streaming platforms.
Ailabouni is an emerging national leader at the intersection of jazz and liturgical traditions. He regularly serves as a guest worship director, bringing the sophistication and soulfulness of the jazz tradition into familiar hymns and liturgy in congregations, synod assemblies, and gatherings across the country. His approach to liturgy is both singable and moves the body while highlighting the sacred in the jazz tradition. Ailabouni has self-published over 50 arrangements of hymns available on his website, JonAilabouniMusic.com.
Ailabouni currently serves as an Assistant Teaching Professor at the University of Wisconsin - La Crosse.
---
Worship Band
Q Worship Collective
TEAM MUSICIANS
Jess Grace Garcia (they/them) - Worship Leader, Vocals, Guitarist
Kelly Ravenscraft (they/she) - Worship Leader, Vocals, Pianist
Gabriel Mudd (he/him) - Worship Leader, Vocals
Sam Hedrick (he/him) - Worship Leader, Vocals, Guitarist
Haley Hedrick (she/her) - Worship Leader, Vocals
Kristyn Guernica (she/her) - Drummer
We are a fierce collective of divergent artists who have experienced parallel spiritual journeys delving into the intersection of holy and queer creative expression.
We are relentless in forging new ground and creating safe healing space for artists to share stories and music of reclamation and reconciliation with our identities and the Divine.
We are all too familiar with the contentious relationship that has existed between the queer community and faith communities- we here at Q Worship believe that these two communities can not only exist, but thrive together. We believe our identities are holy- created in the image of the Divine.
Likewise, we want a space where we can cultivate our faith, curate our talents, and celebrate our identities.
So no matter if you have been out and proud for years, or your journey of deconstruction has just begun-you are welcome here.